Try a Google search for your name and company names. You might be surprised how easy a nosy co-worker or boss can snoop on you.
Don't panic. We've got you covered on how to stay 'OE' safe.
No need to waste hundreds of hours trying to get your data removed from data brokers. Use our recommended privacy tools to scan and remove your data automatically.
DeleteMe. US-based privacy company. Currently available in United States, Canada, United Kingdom, Brazil, Germany, France, Italy, Netherlands, Australia, Singapore, and Republic of Ireland.
Starting at $129/year for 1 person, $229/year for 2 people, and $329/year for family plan. The family plan is our favorite.
Incogni. Europe-based privacy company part of the Surfshark and NordVPN family.
Starting at $77.88 per year or $12.99 per month per person.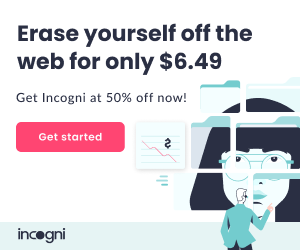 Discover Card. This free online privacy protection only covers the top 10 people search sites with a scan and automatic opt-out once every 90 days. You'll have be Discover credit card customer.
Start with Discover Card if you aren't sure you'll need an ongoing privacy protection service like DeleteMe or Incogni.
Disclosure: sign-ups through affiliate links help support this website and the Overemployed community. Let's change the future of work together. -Isaac 🖖